Events
From time to time ACTION MOBIL organises seminar trips to North Africa and hosts international customer meetings.
These events help to reinforce the community spirit of the ACTION MOBIL customers.
When driving off road, practical tips for handling an ACTION MOBIL are given in the safety of a group environment.
ACTION MOBIL at CARAVAN SALON DÜSSELDORF 2016
The ACTION MOBIL team would like to thank you for your keen interest and for visiting us in large numbers at our stand.
The ACTION MOBIL Type: ATACAMA 6300 was a highlight at the exhibition and has once more created quite a stir. Innovative and practice-proven technology, combined with functional interior design, and cosy atmosphere in the living-room area makes the ACTION MOBIL travel- and expedition motorhomes stand out.
Film scenes of an ACTION MOBIL adventure convoy to Morocco are testimony of all-terrain fitness in practice.
Another trial of ACTION MOBIL vehicles is planned to take place in October 2016. A model of the "ATACAMA" product range is to undergo a decisive test in the "KAOKOVELD", Namibia. For films and photo documentations, we invite you to visit our homepage.
PHOTOS OF THE ACTION MOBIL ATACAMA 6300
ACTION MOBIL at the Adventure Southside
24. - 26. June 2016 - Eigeltingen / Bodensee: 4x4 Overland and Offroad international trade fair
We are looking forward to your visit!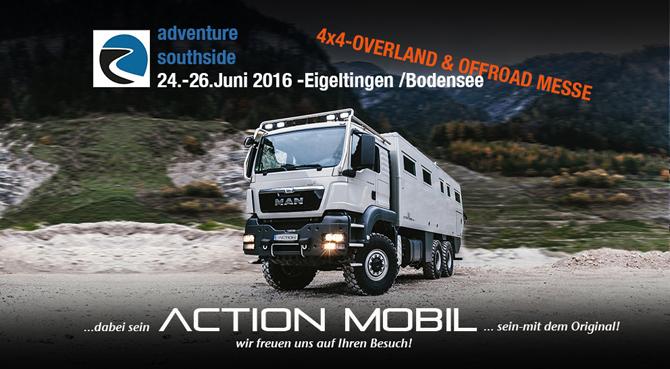 2014 - ADVENTURE MOROCCO
From September 21 to October 12, 2014 another ACTION MOBIL customer convoy took place. A detailed image gallery can be found here. Morocco 2014
2010 - 30 years Actionmobil
Our get-together at the inauguration of the new company.
Here you can find the gallery of the company celebration
2009 – Trip to Libya
2009 an ACTIONMOBIL Tour took us to Libya.
Here you can find the gallery of trip to Libya.
2005 – Trip to Tunesia
Unforgettable moments on our trip to Tunisia.
Here you can enter the Tunesia - gallery.
2002 - ACTIONMOBIL get-together in Wildkogel
Impressions of our gathering at Wildkogel.