…we have looked for new challenges: Dense bush, deep sand and extreme dust!
Test route: dry riverbeds: OMBONDE and KHOWARIB in the Northwest of Namibia. For safety reasons we recommend to drive these routes always in a convoy!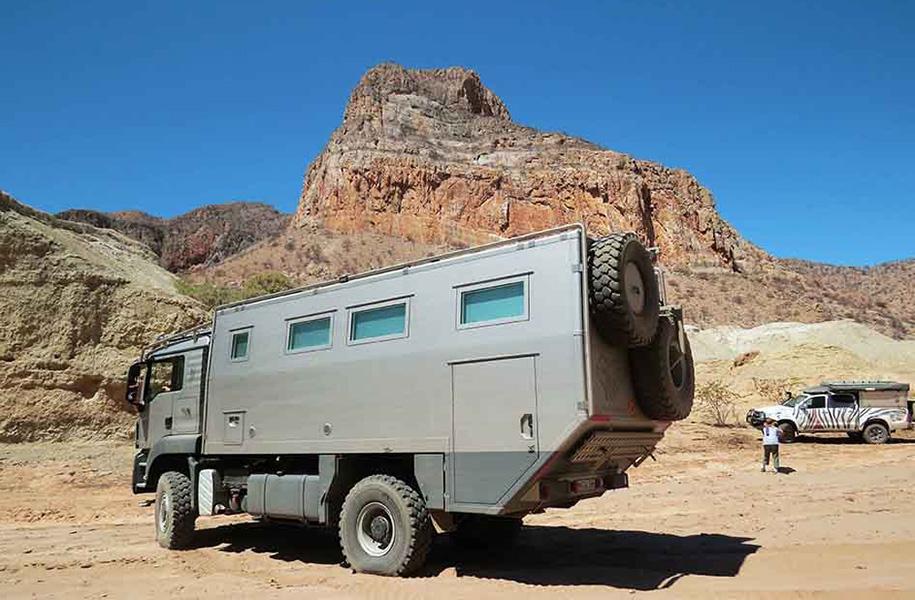 An experienced Africa team
Tour planning: Otti and Steffi Reitz, founders of ACTION MOBIL. An experienced Africa team: The Management: Stephan and Daniela Wirths, Scouts: Otti and Steffi Reitz
MOPANE- AND THORNBUSH may constitute a serious problem, because of deep- hanging branches as well as stumps of dead wood sticking out of the ground, thus putting the tires in danger. Already when planning the tour, a suitable entry for the truck had to be found in order to reach the chosen test track. Along this part of the test track, branch deflectors and vehicle claddings are to prove their worth.
When constructing an ACTION MOBIL, which is to be driven off-road by its owner – we do without any optical gimmicks. Fuel tank claddings, chassis aprons, any side- and rear installations protruding from the body would be torn off invariably by the dense bush. On such tours, scratches on the vehicle body are inevitable.
However, a true off-road driver does not really mind that. What matters is to master the route without problems and this is what an ACTION MOBIL is made for.
First destination reached: the OMBONDE
A good reason to form a smiley from driftwood! This is the start of adventure in DEEP SAND
Dust-dry and burning-hot deep sand are a big challenge!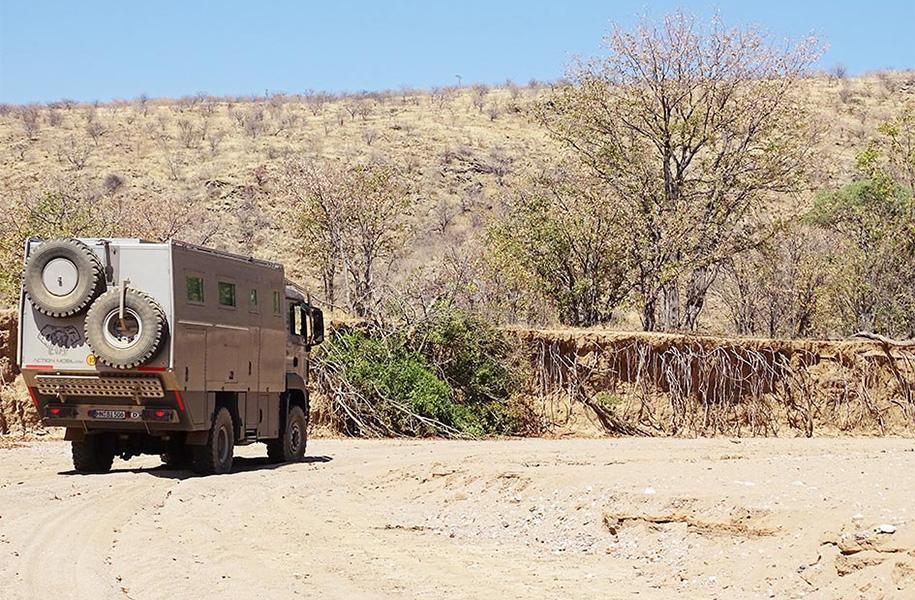 The ACTION MOBIL ATACAMA 6300 in the above photo has so far come to terms with a lot of such routes covering several thousands of kilometers in Africa. Never have there been any technical problems and the vehicle has never got stuck in the sand. The absolute precondition is the right tire pressure. Its adjustment is controlled within a few minutes by a semi-automatic tire-pressure regulator. Reliable – robust – resistant to wear.
Once you have arrived in the riverbed of the OMBONDE, you have to lower the tire pressure to the minimum permitted by the tire producer. So grit your teeth and go through with it! There is hardly any possibility to exit these loamy canyons and once you have reached the top, it is very difficult to move on. Drivers who have little experience with deep sand routes should rather practice in areas where they can expect help from outside. At a temperature of 40°C, it is by no means pleasant to dig a truck out of the sand.

Many people believe that such tracks can only be managed in a small off-road, all-wheel passenger car. ACTION MOBIL proves that the contrary is true. It is an absolute prerequisite to plan the route perfectly beforehand. Sufficient technical equipment. SAT phone for calling help in case of emergency and, most important, enough drinking water and fuel reserves. All these things are taken care of in an ACTION MOBIL. All the pilot needs to bring with him is driving experience – THEN ADVENTURE WILL BE SHEER PLEASURE!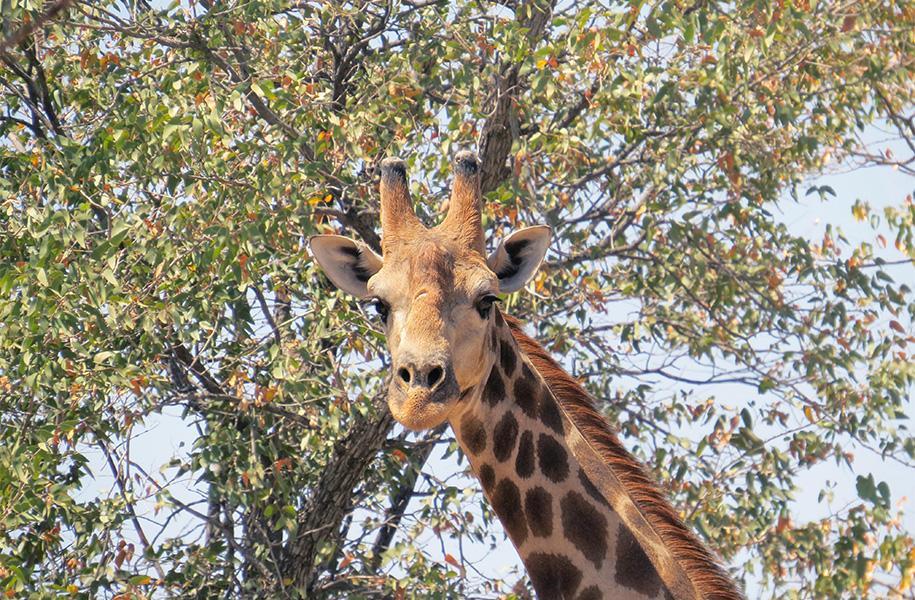 You will hardly have to reckon with oncoming traffic, but after every river loop, you will encounter wildlife. This area is home to giraffes, elephants and lions!
After a successful day, enjoy the evening at a campfire. There is plenty of firewood around.
"Little Serengeti"
We find the exit after "Little Serengeti" and experience an entirely different landscape.

Vast plains where springboks, cheetahs and lions roam.
Look forward to Part 2
Otti Reitz 2017