ACTION MOBIL at CARAVAN SALON DÜSSELDORF 2016
The ACTION MOBIL team would like to thank you for your keen interest and for visiting us in large numbers at our stand.
The ACTION MOBIL Type: ATACAMA 6300 was a highlight at the exhibition and has once more created quite a stir. Innovative and practice-proven technology, combined with functional interior design, and cosy atmosphere in the living-room area makes the ACTION MOBIL travel- and expedition motorhomes stand out.
Film scenes of an ACTION MOBIL adventure convoy to Morocco are testimony of all-terrain fitness in practice.
Another trial of ACTION MOBIL vehicles is planned to take place in October 2016. A model of the "ATACAMA" product range is to undergo a decisive test in the "KAOKOVELD", Namibia. For films and photo documentations, we invite you to visit our homepage.
PHOTOS OF THE ACTION MOBIL ATACAMA 6300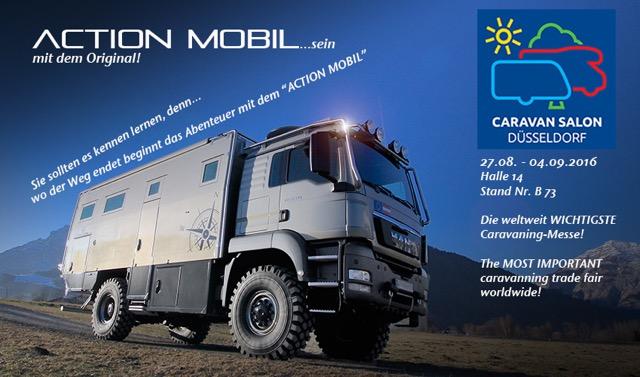 ACTION MOBIL at the Adventure Southside
24. - 26. June 2016 - Eigeltingen / Bodensee: 4x4 Overland and Offroad international trade fair
We are looking forward to your visit!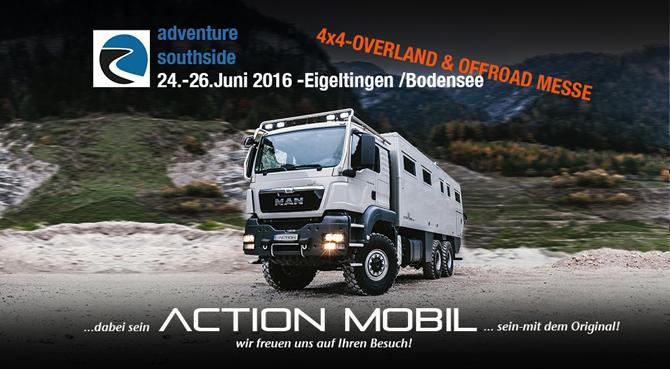 Actionmobil at the "Abenteuer Allrad" in Bad Kissingen
26.05.2016 - 29.05.2016 - stand M22.
When the "Abenteuer Allrad" (German for "Adventure 4x4") goes into the next round at the fairgrounds in Bad Kissingen, the ultimate Offroad festival season starts for Globetrotters and long distance travellers from all over the world. Actionmobil is looking forward to your visit.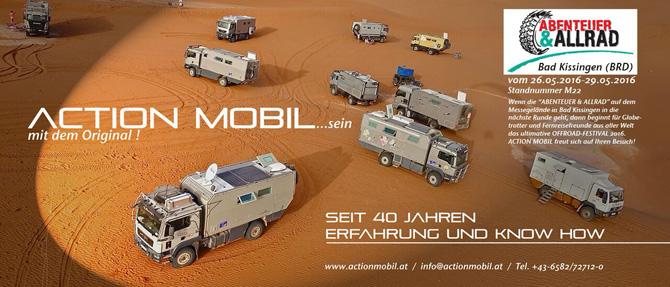 New video online
ACTION MOBIL SPOTLIGHT: NAMIBIA
New ATACAMA 6300 delivered
Luxury 2 axle off road camper... The most important features of the Atacama 6300: All-terrain, functional, powerful and creative. This new off-road motorhome belongs to the most popular Actionmobil series Atacama.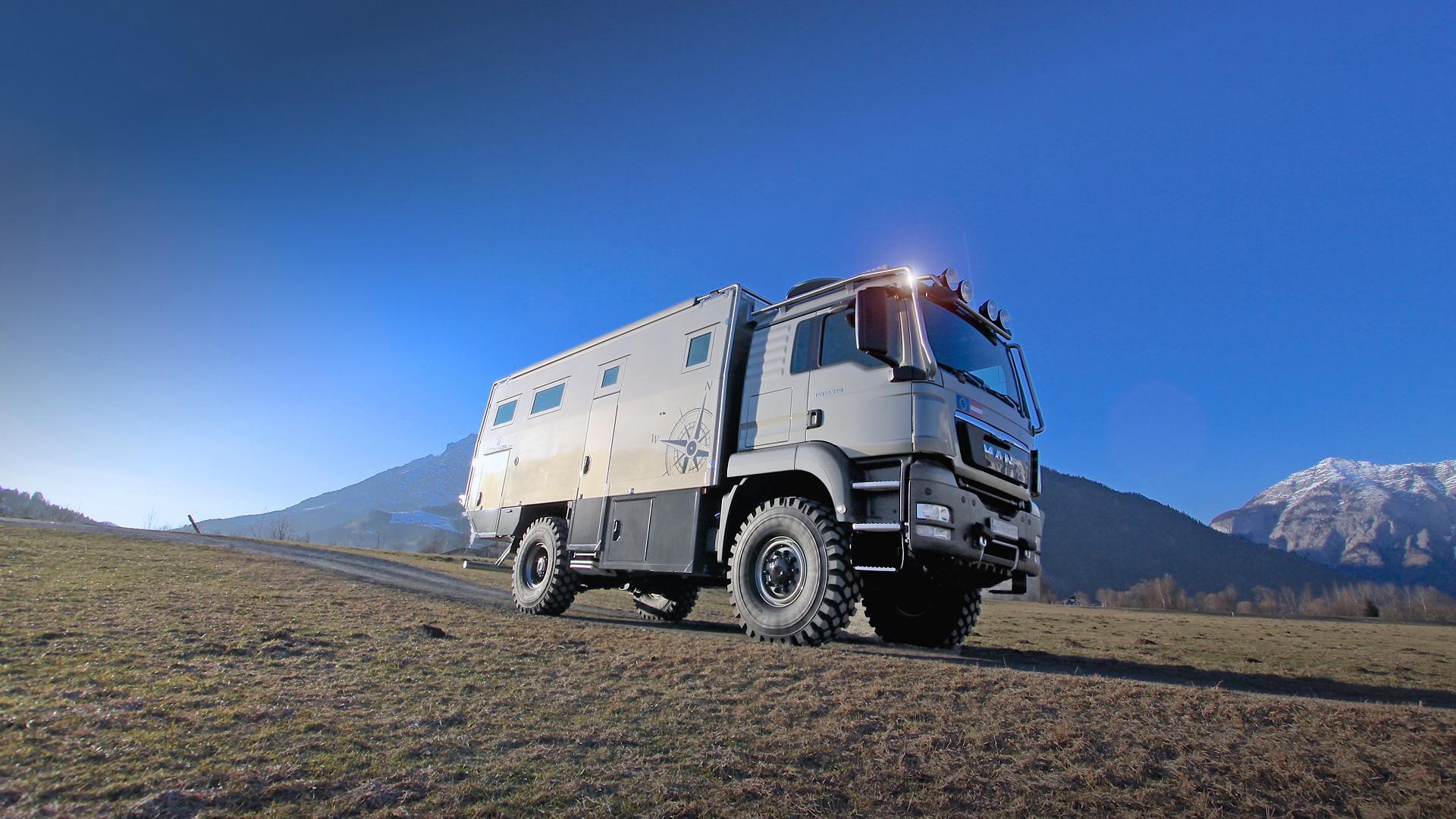 New Temet 5500 delivered
Family Haeusgen ordered a Temet 5500 for their round-the-world trip which started in Australia end of 2015. Learn more about the latest ACTION MOBIL which left our workshop.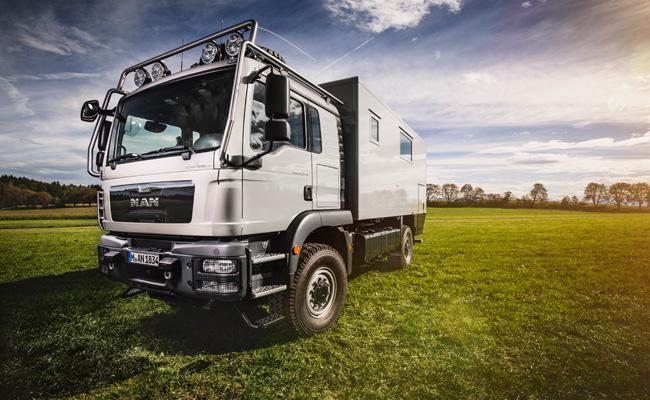 Caravan Salon - Düsseldorf 2015
29.08.2015 - 06.09.2015
Actionmobil: Pavillon 14 / stand B 52
Actionmobil at the worlds largest trade fair for motor homes. Travelling with the whole family in any terrain as far as the end of the world.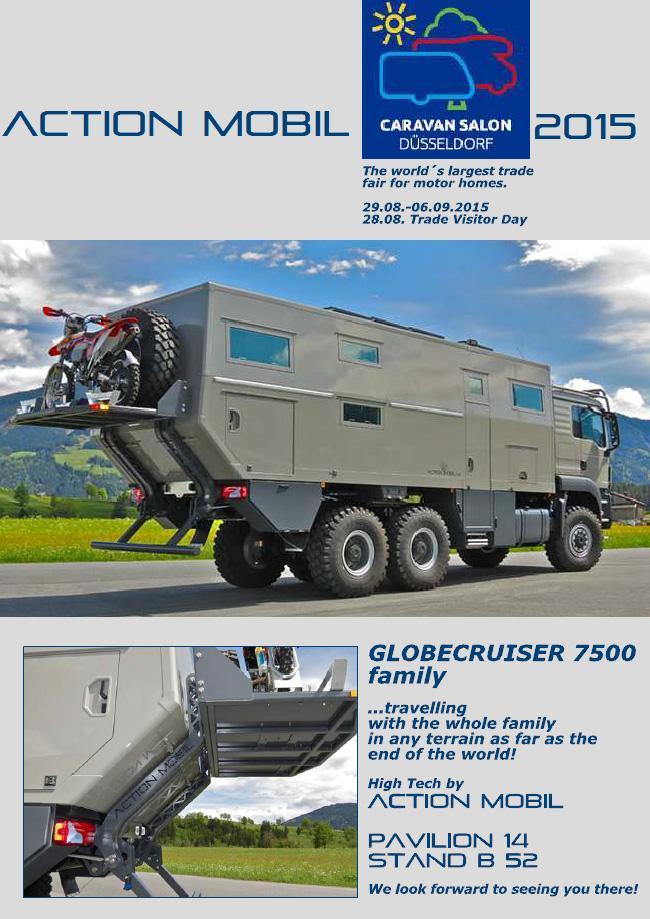 Abenteuer Allrad - Bad Kissingen
June 4 - June 7, 2015 / Actionmobil at stand M 23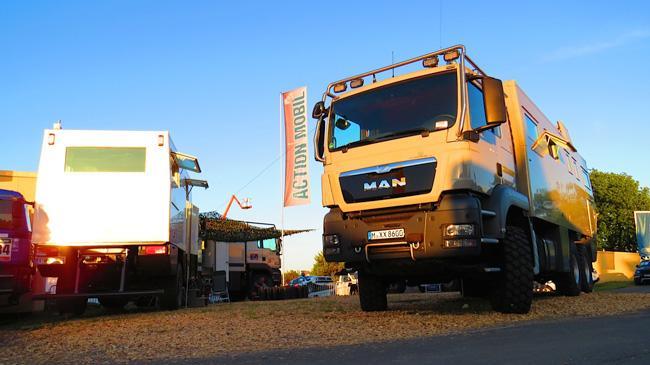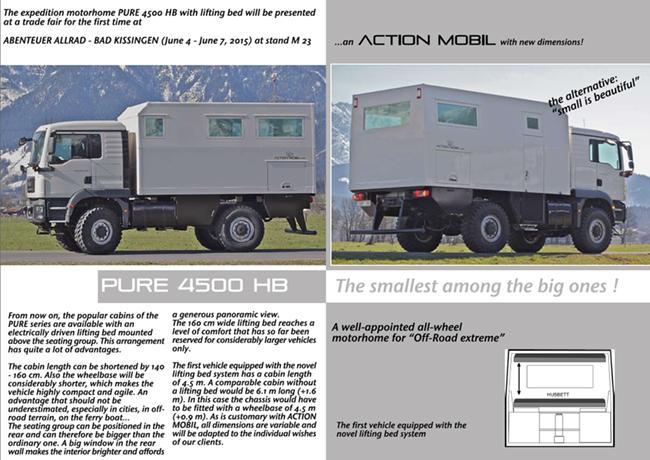 ADVENTURE MOROCCO 2014
5 years after the last spectacular ACTION MOBIL convoy to Libya, it was high time to organize another adventure convoy.
In our world gallery you will see all the pictures.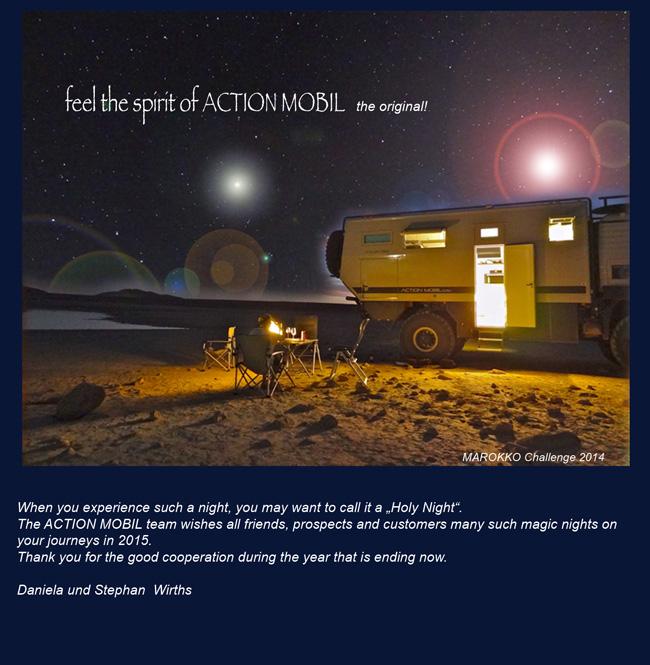 CARAVAN SALON - DÜSSELDORF 30.08 - 07.09. 2014
Impressions from the Caravan Salon trade fair in Düsseldorf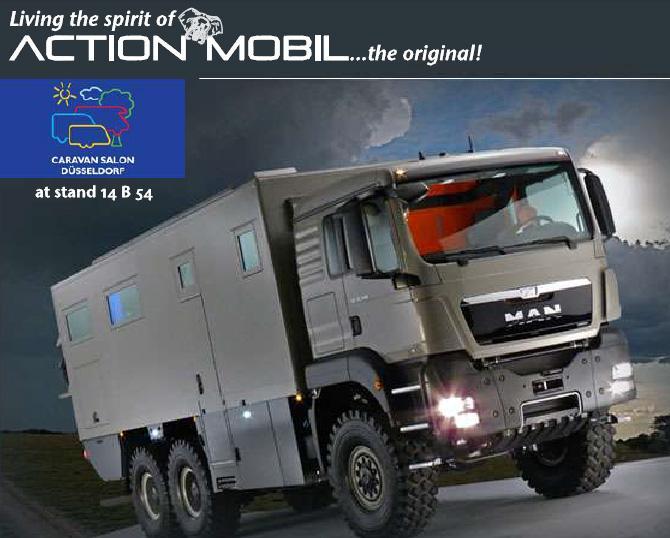 ACTION MOBIL - ABENTEUER ALLRAD
We thank all our friends, prospects and clients for their visit at the Off-Road-Show in Bad Kissingen last weekend
Visit us at the fair and experience hands-on the quality of ACTION MOBIL.
ALLRAD & ABENTEUER - BAD KISSINGEN : 19.06. - 22.06. - 2014

Offroad moto home for the entire family
The ACTION MOBIL LAND YACHT for the entire family is now ready for the adventure "round-the world trip" in any terrain!
GLOBECRUISER 7200 family - 2014 edition
WORLD - WELL - KNOWN SPORTSMEN in front of an ACTION MOBIL:
DAVID CULTHARD - ALEX WURZ - FELIX BAUMGARTNER - HEINZ KINIGARTNER, the "SPEEDGANG" in front of an ACTION MOBIL.