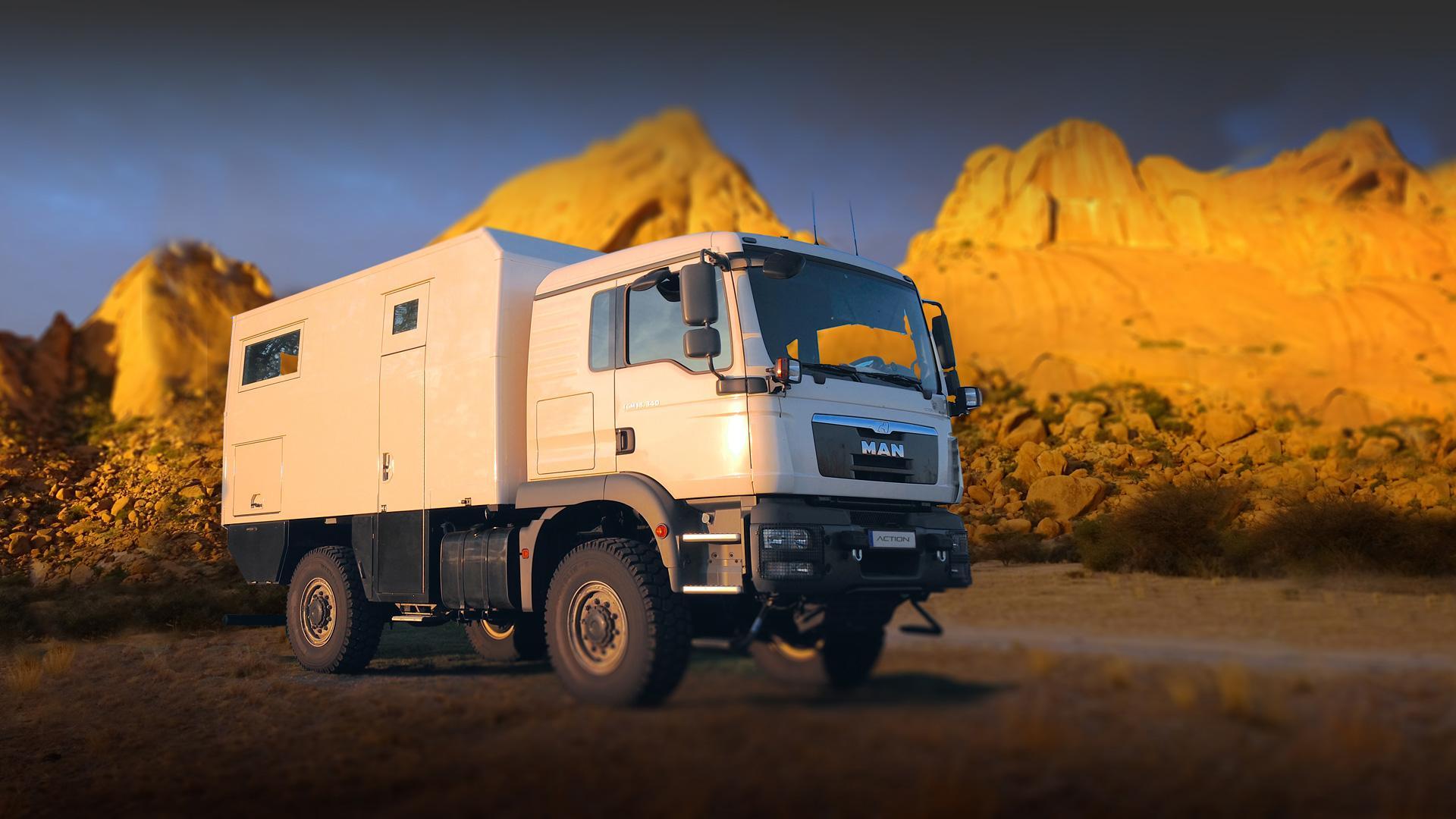 PURE 4500 HB
PURE 4500 HB 4x4 motorhome
The smallest among the big ones!
The ACTION MOBIL team will always strive to meet their clients' wishes – for example the wish for even more compact cabin configurations for narrow, rocky terrain overgrown with bushes. Yet how to shorten the construction length without having to miss out on certain convenient features? ACTION MOBIL has resorted to an idea which was already realized back in 2005 in the legendary DESERT CHALLENGER: a bed that can be lowered electrically.
From now on, the popular cabins of the PURE series are available with an electrically driven lifting bed mounted above the seating group. This arrangement has quite a lot of advantages.
The cabin length can be shortened by 140 – 160 cm. Also the wheelbase will be considerably shorter, which makes the vehicle highly compact and agile. An advantage that should not be underestimated, especially in cities, in off-road terrain, on the ferry boat.
The seating group can be positioned in the rear and can therefore be bigger than the ordinary one. A big window in the rear wall makes the interior brighter and affords a generous panoramic view.
The 160 cm wide lifting bed reaches a level of comfort that has so far been reserved for considerably larger vehicles only.
The first vehicle equipped with the novel lifting bed system has a cabin length of 4.5 m. A comparable cabin without a lifting bed would be 6.1 m long (+1.6 m). In this case the chassis would have to be fitted with a wheelbase of 4.5 m (+0.9 m). As is customary with ACTION MOBIL, all dimensions are variable and will be adapted to the individual wishes of our clients.
Technical specifications: Pure 4500 HB
| | |
| --- | --- |
| Total length | 6.990 mm |
| Body length | 4.500 mm |
| Width | 2.470 mm |
| Height (depends on demanded interior clearance) | 3.650 mm |
| Weight ready-to-go | 10.700 kg |
| Payload | 7.300 kg |
| Performance | 340 PS |
| Fuel / Diesel | 700 Liter |
| Emission class with AdBlue shut off system (international suitability) | EURO 5 |
Lifting bed system
Compact cabin