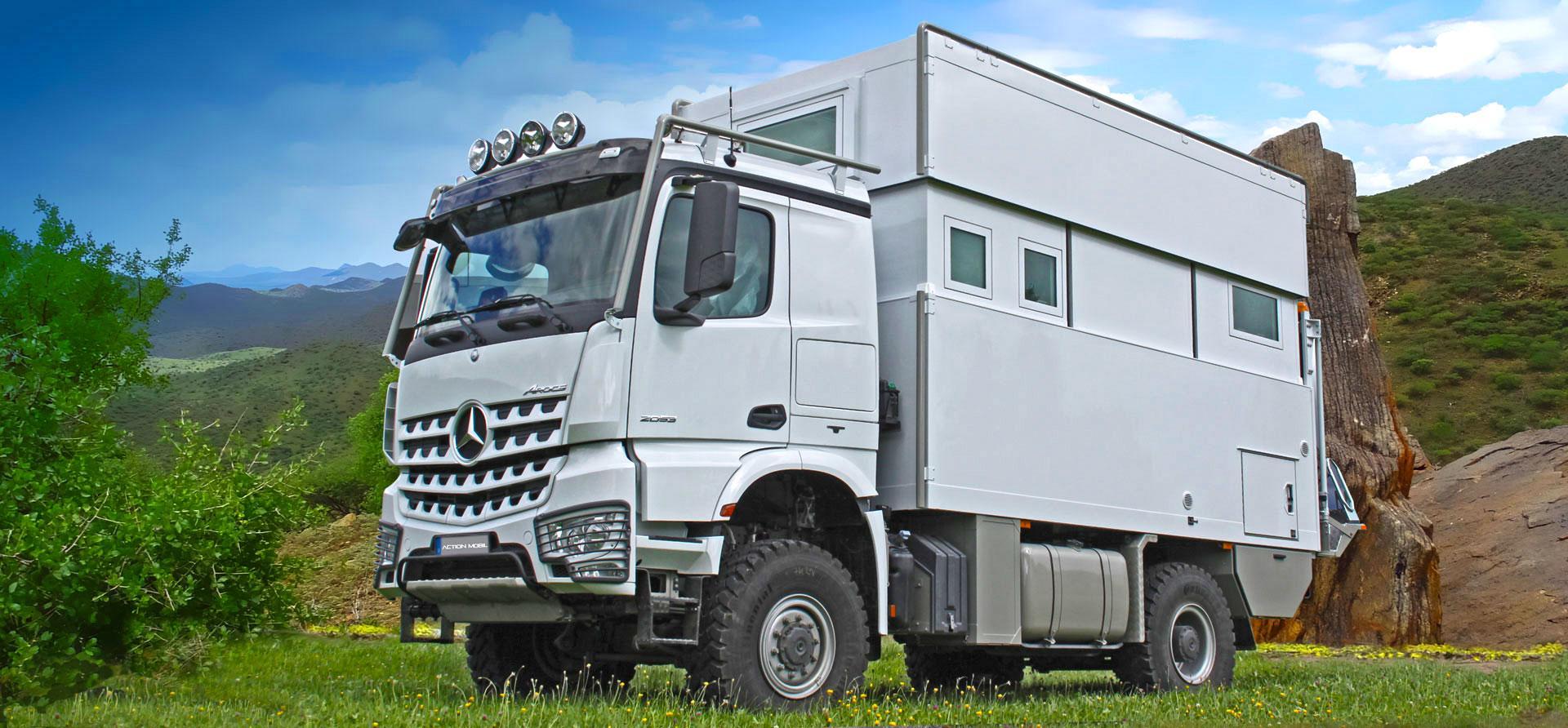 ATACAMA 5000 HD
ATACAMA 5000 HD expedition motor home
A new top-class, world-traveling motor home
The most important features of the ATACAMA 5000 HD: Advanced, compact, powerful. ACTION MOBIL explores new horizons and builds the ATACAMA with lifting roof onto the Mercedes AROCS.
The AROCS 4x4 base offers crucial advantages for the most compact ATACAMA in our collection. Due to its extremely stable and powerful chassis the AROCS is strong enough to carry a most compact lifting-roof fixture on only two axles. Thus, the ATACAMA 5000 HD is most space saving and with its powerful 530 PS extremely manoeuvrable.
The bedroom of the ATACAMA 5000 HD is situated on the first floor above the kitchen and the bathroom. It is reachable via a spiral staircase which is found in the dining area at the back of the vehicle. The room needed above the loft bed is gained by extending the lifting-roof.
Thanks to the lifting roof (of course electrically extendable) the 4x4 motorhome safes about 2 metres of length, which allows to abstain from the third axle. On top of this comes the already very short short-wheel-base of the AROCS – the ATACAMA 5000 HD is consequently very manoeuvrable and thus also suitable for narrow and difficult terrain
Another advantage of the lifting-roof system is that during travelling when the roof is down, the glass windows are protected from sand blasting and other environmental damages.
As always, ACTION MOBIL only uses the most elegant material for the interior design and every little space inside as well as out is meticulously thought through and utilised.
The kitchen is equipped with an electronic oven and induction cooker as well as fridge and freezer both from our in-house production. The bathroom consists of a porcelain toilet and a designer shower. A 450 litre tank of drinking water covers the need for kitchen and bathroom. Solar panels are fixed on top of the lifting roof, feeding a high-performance battery (540Ah @ 24V). Air conditioning and floor heating offer all-round comfort even during extreme temperatures.
Technical specifications: Atacama 5000 HD
| | |
| --- | --- |
| Total length | 7.620 mm |
| Body length | 5.000 mm |
| Width | 2.480 mm |
| Height | 3.990 mm |
| Weight ready-to-go | 15.3 tons |
| Payload | 2.7 tons |
| Performance | 530 HP |
| Emission class with AdBlue shut off system (international suitability) | 5 |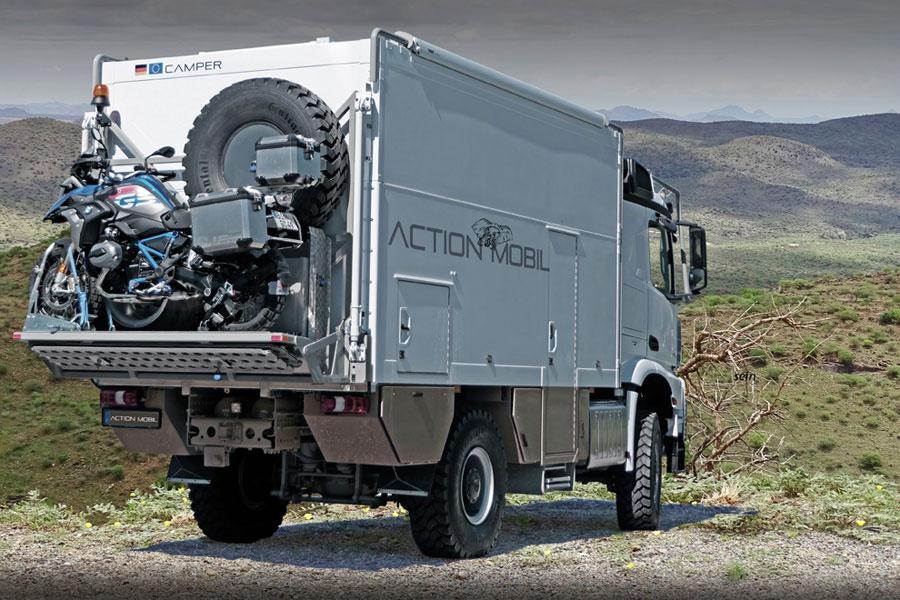 Spacious Design
Powerful Chassis
Atacama 5000 KSAR HD gallery
Another model of our Atacama 5000 with elevating roof
Functionality of the elevating roof
Video shows Atacama 5000 KSAR
Lift - Straight back
Video shows Atacama 5000 KSAR