Technology Special: ACTION MOBIL elevating roofs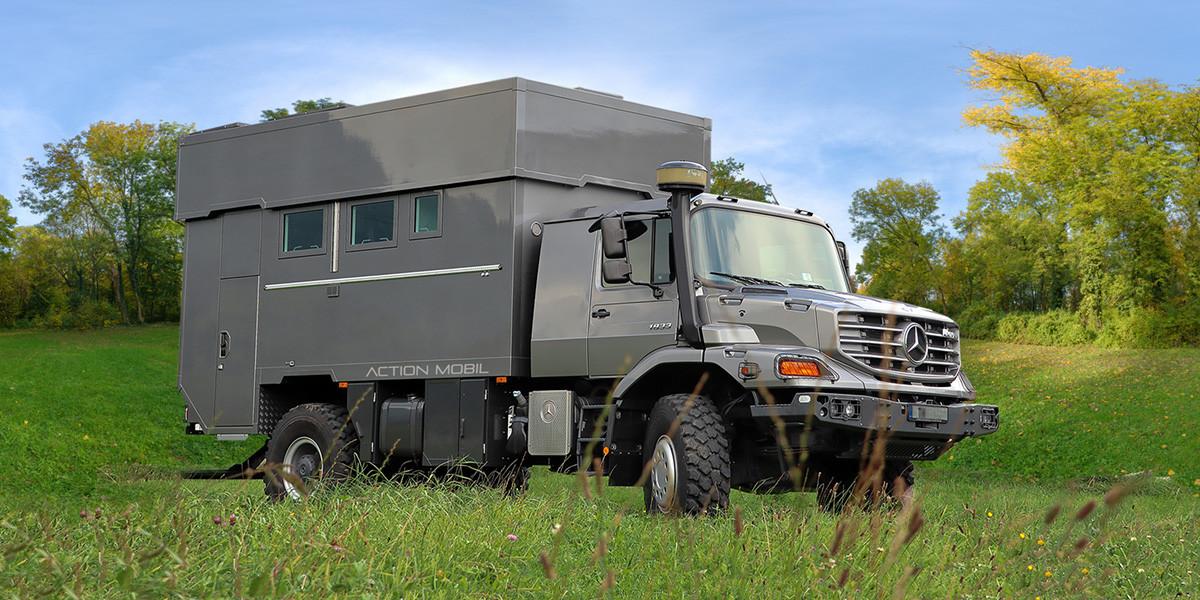 As early as 1984, the first original ACTION MOBIL with elevating roof was built in Austria. For well over 37 years, this type of cabin has been popular and has proved to be a great success on all kinds of world trips. Reasons for choosing a world-trip motor home with elevating roof are, amongst others, the low construction height and security against burglary with the roof in lowered position.
ACTION MOBIL OUTBACK 5100
Here you can see our latest model, the Zetros Outback 5100, with a completely new cabin model.
The new "outback cabin" differs from other ACTION MOBIL bodies in particular through its low construction and the elevating roof, which protrudes over the lower body. This reduces the weight of the cabin and makes the all-wheel-drive motorhome more affordable.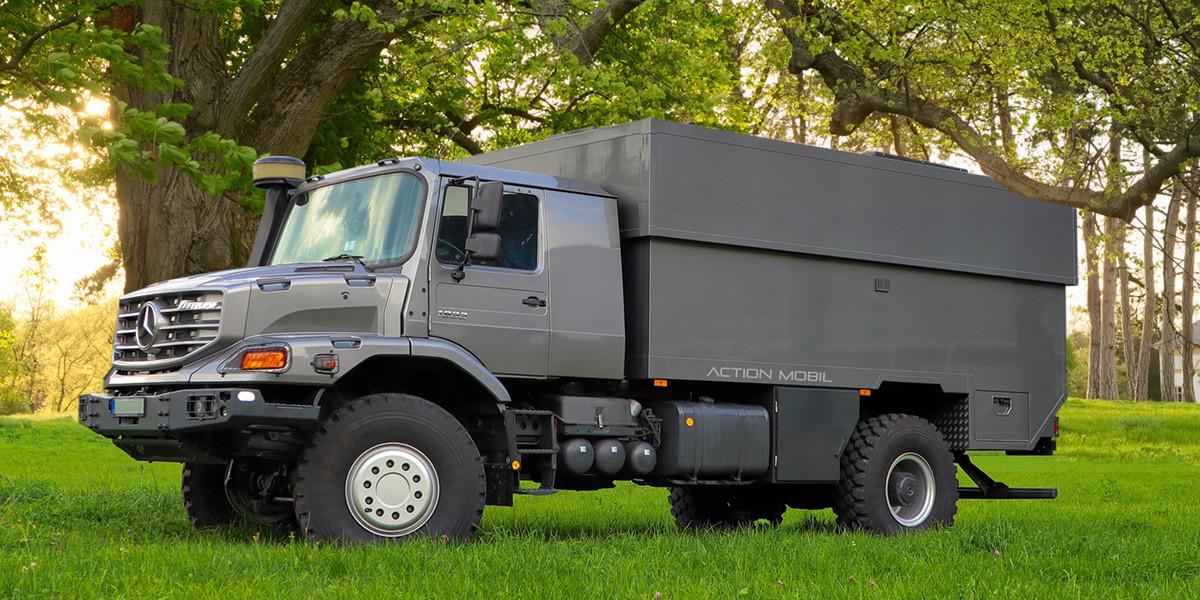 Expedition motor homes with elevating roof - 37 years of continuous innovative development
Pinzgauer elevating roof
In 1984, with the construction of the first elevating-roof cabin on a Steyr Puch-Pinzgauer 6x6, ACTION MOBIL once again made its mark on an international scale.
The first elevating-roof prototype on a Pinzgauer 6x6. Tested in Egypt (Sinai). On tour in Africa for 30 years and in use up to now. Different types of cabins were mounted on 4x4 – and 6x6 chassis. Up to the point when Steyr unfortunately discontinued their production.
Cabins with elevating roofs on truck chassis
A short time later construction of the Pinzgauer was discontinued. A suitable chassis alternative had to be found. Otti Reitz, the founder of ACTION MOBIL ventured the step in direction truck chassis. A personal meeting at MAN in Munich did cause some stir, however the idea that a truck would be a suitable vehicle for the traditional holiday camper was for the time being doubted by MAN. Reitz, however, persisted and built an elevating-roof cabin mounted on a VW-MAN 8.136 FAE chassis. Soon after, this motor home led to a reorientation at MAN. The marketing department understood the promotional message: ACTION MOBIL, the pioneer in the field of expedition vehicles, decides on MAN vehicles. Neither tipper vehicles, nor concrete mixers would ever convey the same advertising message. So this was the start of a successful cooperation with MAN. Under the slogan "Together we are strong!" the "DOGON 1" soon after was prominent on the large MAN promotional posters. Thus it may justly be claimed that ACTION MOBIL was the pioneer in the development of long-distance motor homes mounted on modern AWD trucks.
ACTION MOBIL cabins with elevating roof on MAN-KAT I A1. Endurance test under rally conditions. For several years the support vehicles during Africa rallies were provided by ACTION MOBIL. Among other things, an elevating roof on a KAT 8x8 with a remarkable roof length of 8 metres.
Latest state of the art!
2 construction versions of the body are on offer. Elevating roof and cabin sidewall installed flush (Atacama Arocs 5000 HD) or the elevating roof protrudes from the sidewalls - the economical version with equal advantages of a cabin with elevating roof (Zetros Outback 5100)
Elevating roofs: when the construction height of the cabin is to be low!
The headroom with the cabin roof lowered and the construction height of the elevating roof are adjusted individually and essentially comply with the height of the cabin. This type of elevating-roof cabins with protruding roof is also suitable for smaller chasses (weight and price).
Elevating roofs: when the cabin length is to be short.
Functional furnishing option for chasses with taller cabins. Whether hanging lockers can be installed depends on the individually desired total height of the cabin. In this type the settee can be converted into a bed. Above the cupboard a single bed is integrated. Apart from that, a WC and a shower, as well as a driver cab access are provided.
"LIVING instead of "CAMPING" What more luxury could you wish for?
Ample living room ambience: Shower separated from WC, kitchen with all modern convenience, generous settee with 360° view, and on top of that sufficient storage space, as well as a separate bedroom built into the elevating roof.
Stay Informed
When you subscribe to the blog, we will send you an e-mail when there are new updates on the site so you wouldn't miss them.