ACTION MOBIL - PDF JOURNAL
We sporadically describe ACTION MOBIL vehicles and technical news.
2021
PDF JOURNAL ELEVATING ROOF ... As early as 1984, the first original ACTION MOBIL with elevating roof was built in Austria. For well over 37 years, this type of cabin has been popular and has proven to be a great success on all kinds of world trips.
2020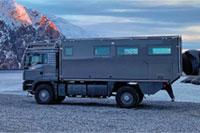 ACTION MOBIL ATACAMA 6000 ... stationed at a Scandinavion fjord in winter. Unique pleasure experience for individualists!
2019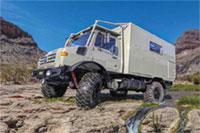 Temet 3600 - This ACTION MOBIL cabin variant with UNIMOG chassis may rightly be called a typical expedition motor home. Short, compact and highly manoeuverable - there will be hardly any obstacle it cannot overcome!
2017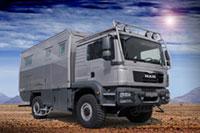 High Tech by Action Mobil ... A lifting bed for even more space in the cabin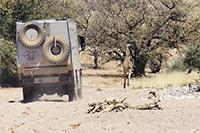 Challenge 2017: …we have looked for new challenges: Dense bush, deep sand and extreme dust! Test route: dry riverbeds: OMBONDE and KHOWARIB in the Northwest of Namibia. For safety reasons we recommend to drive these routes always in a convoy! An experienced Africa team: The Management: Stephan and Daniela Wirths, Scouts: Otti and Steffi Reitz
HIGH TECH BY ACTION MOBIL WITH A NEW FACE: A compact all-wheel motorhome for the big adventure: Small turning radius, high additional load, hydraulic lift for 2 spare tires and a motor bike, high-degree burglarproof cabin, 4 seats in cockpit, 2 separate double beds, designer bedroom on 1st floor, comfort amenities in the cabin.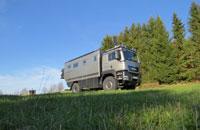 Luxury appartment with lake view in undeveloped grassland! No buiding permit required. To be visited at the world's biggest All-Wheel motor show "Abenteuer Allrad". More information and a lot of pictures in our pdf journal. The most important features of the Atacama 5800: Functional, solid, elegant and comfortable. This new off-road motor home belongs to the most popular Actionmobil series Atacama.
"JUMBO reunion" in the Ugab: The ACTION MOBIL ATACAMA 6300 was taken on a test drive in challenging terrain. Read more about the adventures we experienced in the far North-Western part of Namibia, inclduing some close encounters with the majestic desert elephants of the Kaokoveld.
Expedition mobile Atacama in the Kaokoveld: Unspoilt landscapes where you feel like being on the moon - not to be reached in a common motorhome! ACTION MOBIL globetrotter motorhomes are built and equipped to master such landscapes.
2016

The chassis of the ATACAMA 6300, in which we are on tour here, has been optimized in some respects and we are testing it now. Technical innovations have been developed for improving the driving behaviour with regard to short and deep bumps.
ACTION MOBIL in the Outback. The Australien Outback stands for endless, uninhabited vastness and solitude. Reliable technology is an essential prerequisite for taking the challenge of travelling in your own motorhome.

The new PURE 4500 HB - The right dimension when things need to be smaller. A height-adjustable bed at the rear of the cabin makes it possible. The bed with its width of 160 cm provides comfort at a level so far reserved only for considerably bigger vehicles.
2015

The ACTION MOBIL Management is seeking new challenges, even in their holidays. ... this time in an ACTION MOBIL that has been running on tracks of several continents for 20 years.

Caravan Salon - Düsseldorf 2015: Actionmobil at the worlds largest trade fair for motor homes. Travelling with the whole family in any terrain as far as the end of the world.

Pure 4500 HB & Pure 5300 - The smallest among the big ones! ACTION MOBIL all-wheel motorhome, Compact in its dimensions, Low priced equipment

ACTION MOBIL CHALLENGE MOROCCO 2014:
Travel impressions part 2

The Challenge Morocco 2014 was demanding both on technology and participants.
2014

The play of colours: Discrete and unobstrusive from the outside but no fear of colours inside.

Problems with new emission standard EURO 6 / New Website Online
2013

Eye to eye with the desert-dwelling elephants – the third part of our travel report on the Kaokoveld.

The desert-dwelling elephants of the Namibian Koakoveld - the second part of our travel report on the Kaokoveld.
2012

Along the Skeleton Coast to the Kaokoveld in the north west of Namibia - the first part of our travel report on the Kaokoveld.

KSAR HD 5000 – this story is nearly 30 years old and 2012 still up to date!...the original!
2011

ACTION MOBIL travel report Caprivi, Namibia's wet north-west. Wild camping eye to eye with untamed wildlife.

Atacama - Mercedes Zetros 1 – The new face among our ACTION MOBIL expedition vehicles.

Atacama L – A Landy yacht with style, luxury and refined technique! Ideal for travelling the world and for expeditions.
The 1. ACTION MOBIL get-together in Namibia – Impressions of the gathering in time for the rainy season of the century in this desert country.

Warm and atmospheric ambiance in the ACTION MOBIL ATACAMA L-C/Cab. Everything falls into place perfectly.
Older publications